Customer Portal FAQs
Do I have to enroll in the Customer Portal?
It is NOT mandatory to enroll in the Customer Portal.
Why should I enroll in the Customer Portal?
Enrolling in the Customer Portal will allow you to view your water usage as it is happening. Additionally, it will allow you to create Alerts/Notifications based on parameters that you decide and set.
How do I activate my Customer Portal?
To set up your account for the Customer Portal, click here and follow the instructions in the order they are listed. Please make sure you pay close attention to the abbreviation, capitalization, and punctuation requirements provided in the next section.
Why does the Customer Portal not accept my information?
The address must be entered in all CAPITAL LETTERS as well as the street type and abbreviated without punctuation. Also, DO NOT include Algonquin, IL
Example: 2200 HARNISH DR
When I'm in my Customer Portal, it shows that I have two meters? Why is that?
The top meter number is what is currently installed in your home. The second meter is the former meter at your home.
Why does it say that phone number 1-404-996-1861 is attached to my account?
This phone number is a dedicated number that sends the Customer Portal Activation Code if you added your phone number to your Customer Portal.
The Customer Portal and GreenPay are two different sites.
Customer Portal is for viewing your usage and creating alerts/notifications. GreenPay is for viewing and/ or paying your water/sewer bill. There is a link in the Customer Portal that directs you to GreenPay if you choose to pay your bill via credit card.
I'm in my Customer Portal and I do not have any data?
If your meter dashboard states "No Data was found to show here", then you should call the water billing department at 847-854-3440 to set up an appointment.
Why does my billing consumption not match my Customer Portal usage?
Billings are generated by rounding DOWN to the nearest thousand gallons. Any consumption leftover from rounding DOWN, is added to your next billing. Your Customer Portal shows the exact usage consumed.
Example:
Customer Portal shows consumption of 3,865 gallons used. Your bill would reflect usage of 3,000 gallons. The 865 gallons would start the next billing.
Customer Portal shows consumption of 3,444 gallons. Billing "B" would reflect usage of 4,000 gallons. (865 from billing "A" + 3,444 current usage = 4,309 gallons).
The next billing would start with 309 gallons.
Customer Portal Account Set Up
Please have the most current copy of your water bill available as you will need it to verify your account.
1. Click the Algonquin SENSUS Customer Portal link: https://my-algqn.sensus-analytics.com/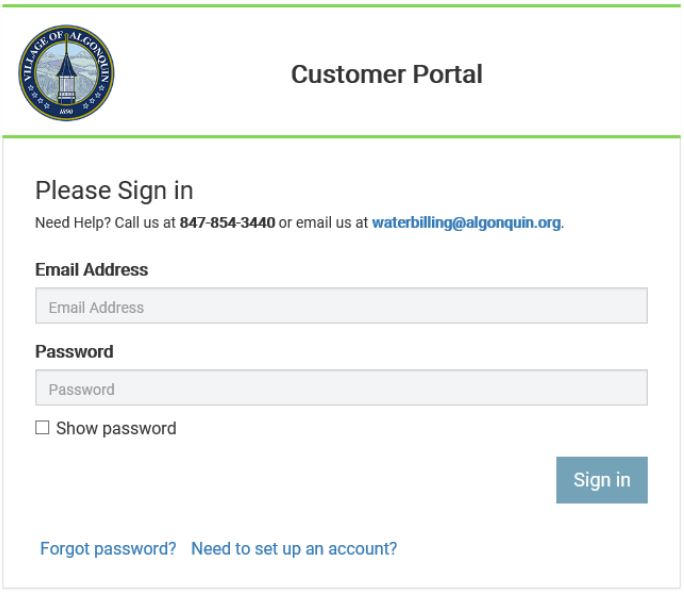 2. Click "Need to set up an account?"

3. Please read the "TERMS OF USE" and click "I Accept"

4. Enter your email address in the space provided.

5. Click "Get Started"

6. You will be prompted to check your email for further instructions on how to activate your portal account.
7. Click the link located in the email you received and continue the account set up. The email received will be from donotreply@sensus-analytics.com.
8. After the clicking the previous link, you will be directed to the 'Set up your account' page.
9. Your email address should appear in the "Email Address" space.

10. On your water pill, please locate ACCOUNT NUMBER and SERVICE ADDRESS.

11. Enter your ACCOUNT NUMBER as it appears on your bill.

12. Enter your SERVICE ADDRESS exactly as it appears on your bill in the "Meter Location Address" box.

13. Complete the remaining sections of the form.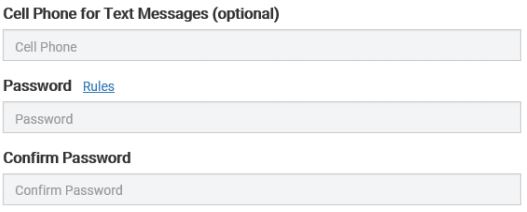 14. Once completed, click "Submit"

15. You will automatically be redirected to the sign in page. You can now use your email address and password to sign into the Algonquin SENSUS Customer Portal.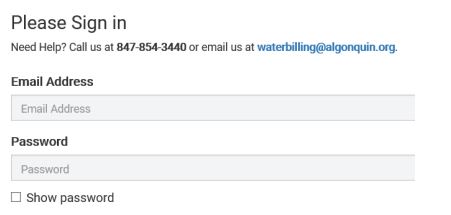 Please be aware that this portal is not used to make payment. To make payment on your water and sewer utility bill, please click here.