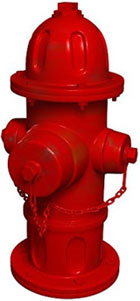 The Village of Algonquin has over 2,200 fire hydrants within its distribution system in need of adoption. Winter storms often bury fire hydrants, making it difficult to locate quickly. If a fire hydrant is buried under snow, it takes firefighters extra time to locate the fire hydrant and from 4 to 6 minutes to uncover the hydrant and gain access. Fire doubles in size every 20 seconds. Our Adopt-A-Hydrant program helps to keep the fire hydrant free of snow and the community safer!
When maintaining a fire hydrant, a three foot area should be kept free of weeds and shrubbery. In the winter months, the entire three foot area should be cleared of snow and a pathway from the roadway or sidewalk should be shoveled leading up to the fire hydrant. When shoveling snow, please be aware of vehicle traffic. Do not stand in the street and be careful not to slip and fall out into the roadway. Also, please do not pile the snow in the roadway.
Please consider clearing the snow from a fire hydrant for your neighbors or those who may have medical conditions, disabilities, or those elderly whom may be unable to do so for themselves. This act of kindness will benefit the entire neighborhood. If you notice that a fire hydrant has been damaged, missing caps, leaking water, or is blocked, please notify us online.