Join us for Algonquin's Premier Holiday Event
December 2, 2023
Ring in the holidays with family and friends at our annual Miracle on Main event in Algonquin's historic downtown. Enjoy festive activities, live music, Santa's arrival, and the magical tree lighting.
Experience the Magic of Miracle on Main
What to Expect at this Year's Event
Join us on Saturday, December 2, with friends and family as we kick off the holiday season in Old Town Algonquin! Enjoy live music, Santa's arrival, the Merry Market, and captivating ice sculpting displays—a joyous celebration that promises delightful memories for all! Most activities will begin between 4-4:30 p.m. and wind down into the evening. However, for those who wish to arrive earlier, Fern Hill's Merry Market will be open to visitors beginning at 3:00 p.m.
View the Miracle on Main event schedule easily in full-page format.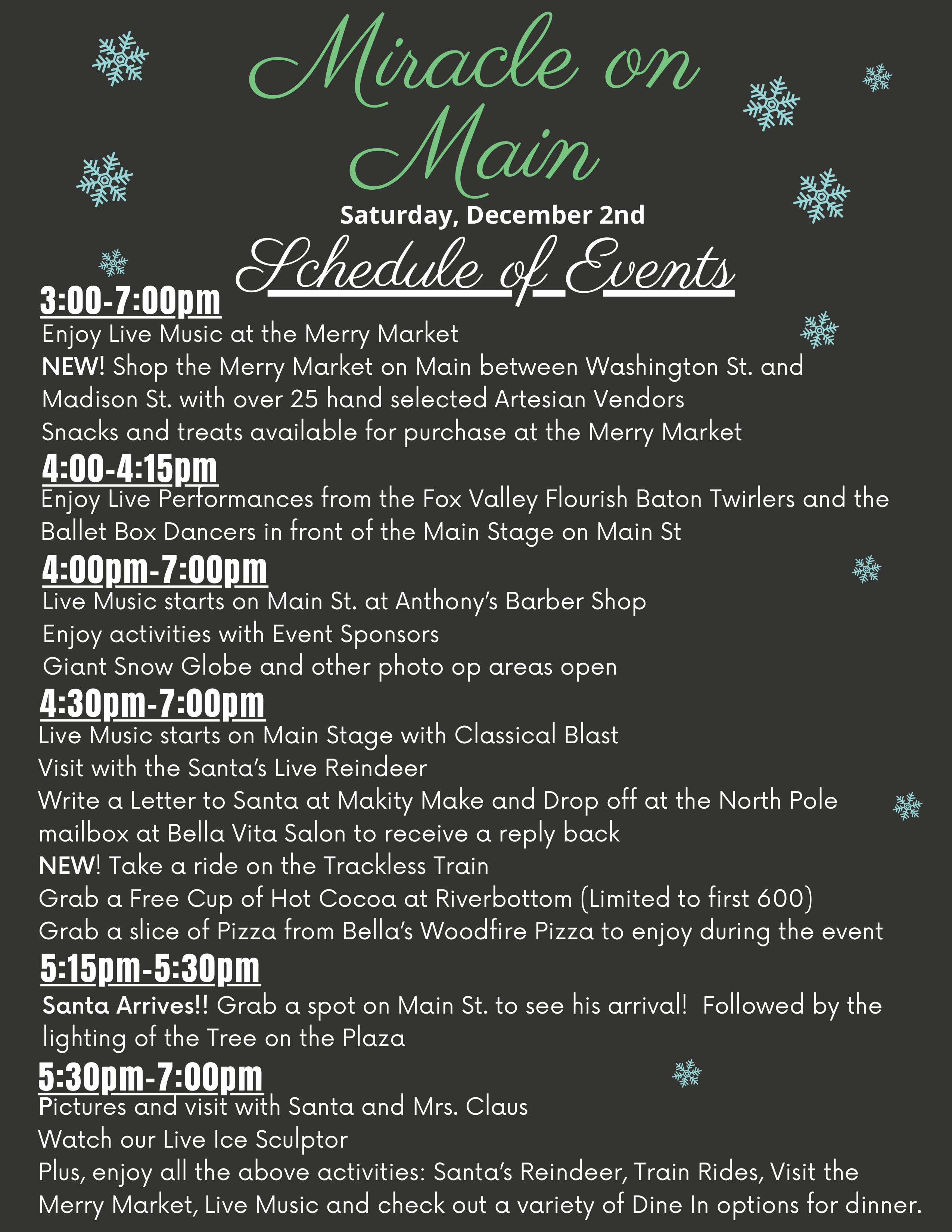 Plan Your Visit
Are you planning to attend this year's Miracle on Main? We've got you covered with all the essential information to ensure an enjoyable visit. From directions to parking details and frequently asked questions, our guide has everything you need to prepare for the event. Make the most of your experience by checking out these helpful tips before you join in the festivities at Miracle on Main.
Miracle on Main unfolds along the charming stretch of South Main Street, nestled between IL Route 62 and Washington Street, right in the heart of Algonquin's historic downtown. Join us in this festive location for a memorable celebration!
Not sure how to get there? Get directions to Old Town Algonquin here.
Parking for the event is available at Towne Park, Jefferson and Railroad streets, the municipal lot on Harrison, and near Cornish Park on La Fox River Drive. Street parking is also available on Madison, Washington, and Harrison streets, and La Fox River Drive on one side of the roadway.
Check out Miracle on Main's full-page parking map for easy navigation.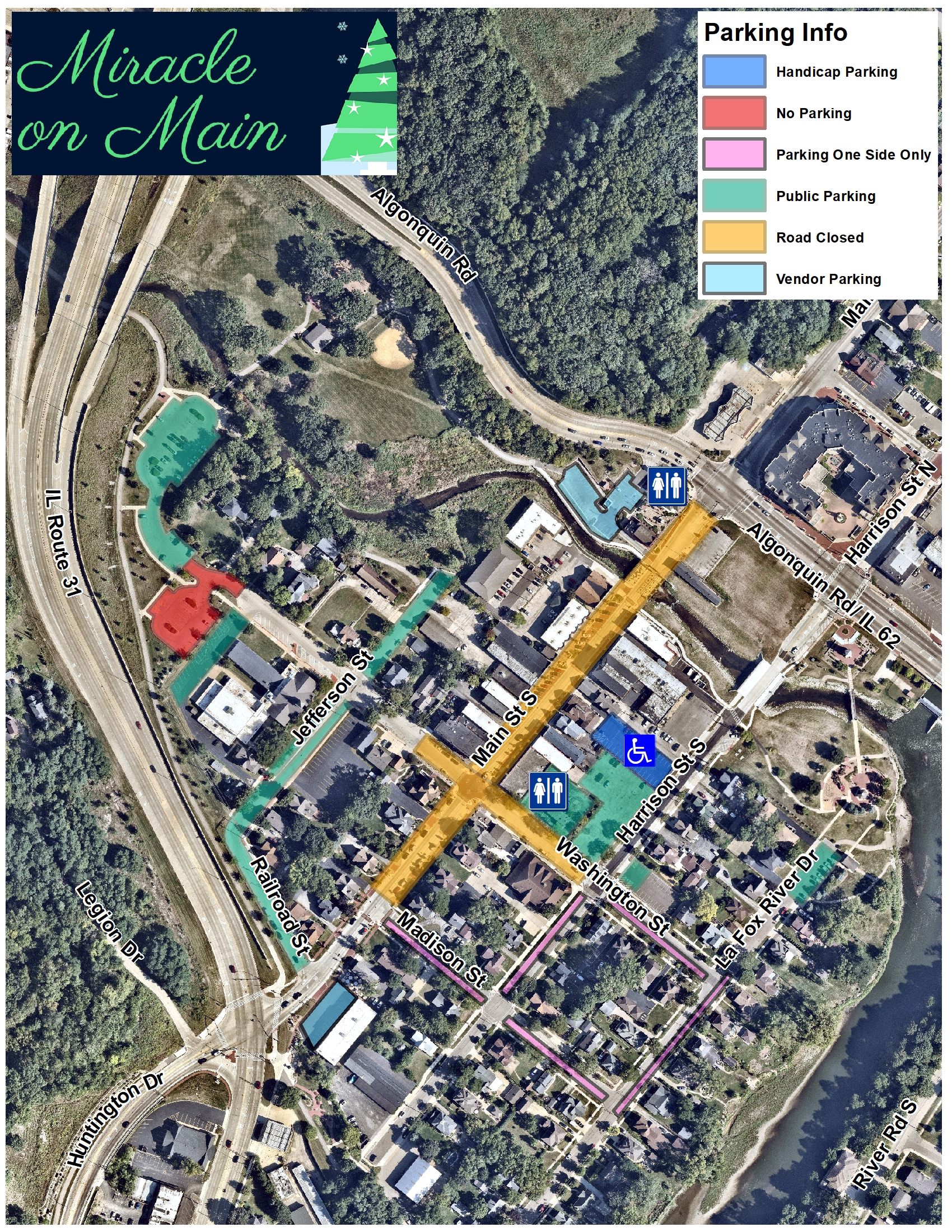 Have a question about Miracle on Main? Check out our Frequently Asked Questions below to find quick answers and helpful information.
Feel free to reach out for any questions beyond our FAQs, and we'll respond promptly to assist you.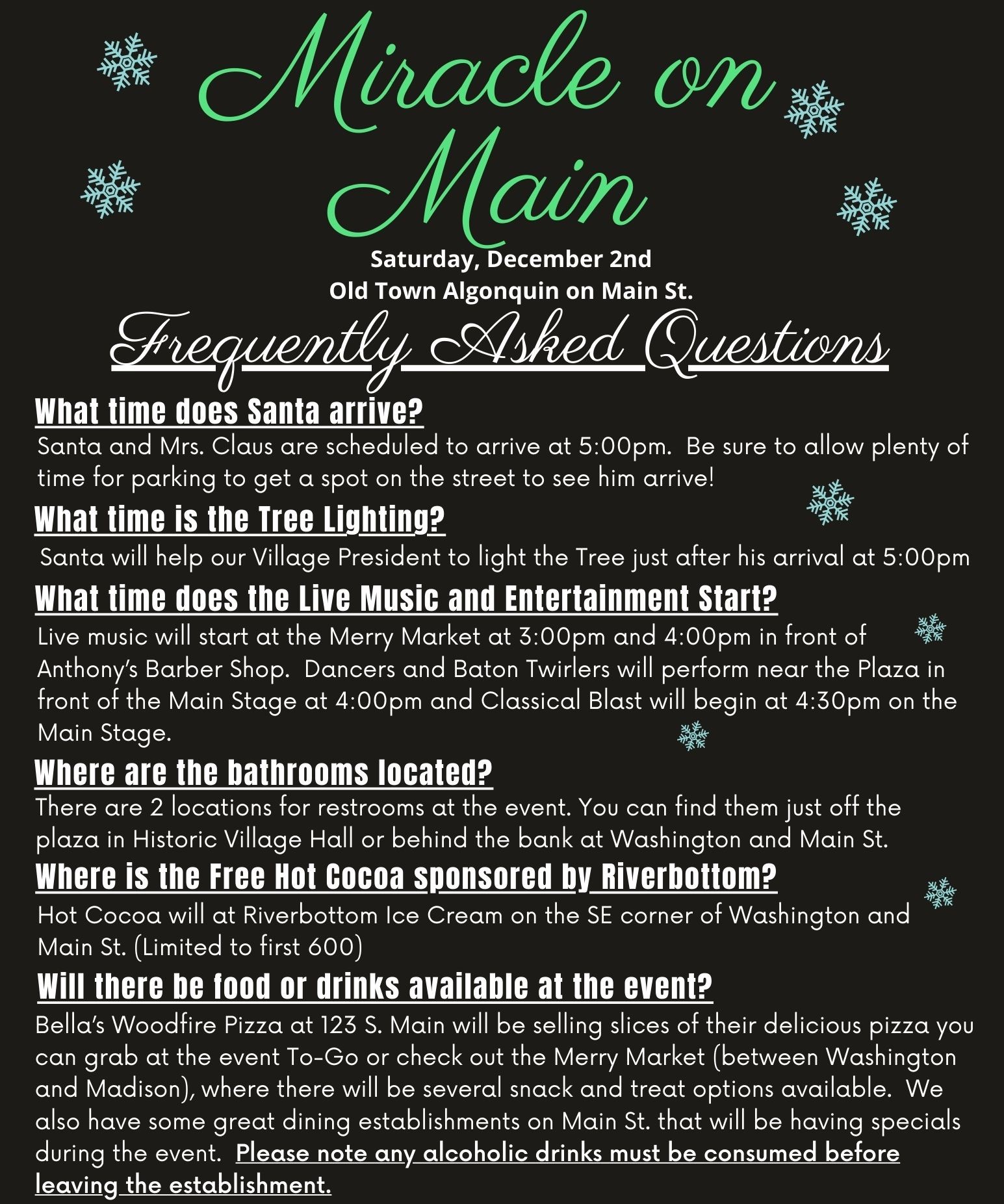 A Special Thanks to Our Event Sponsors