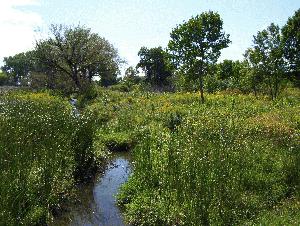 Woods Creek Watershed Plan
The Woods Creek Watershed, located primarily in southeast McHenry County, is a subwatershed to the Crystal Creek Watershed that is part of the larger Upper Fox River Basin in northeast Illinois. The Woods Creek Watershed drains approximately 9 square miles to Crystal Creek. Large portions of the watershed include subdivisions of homes, commercial/industrial centers, farmland, gravel mining operations, area schools, and recreational facilities. The Villages of Algonquin, Lake in the Hills, and City of Crystal Lake are the predominant watershed jurisdictions. Interspersed throughout the urban environment is a natural system of streams, lakes, wetlands, and upland prairies, savannas, and woodlands.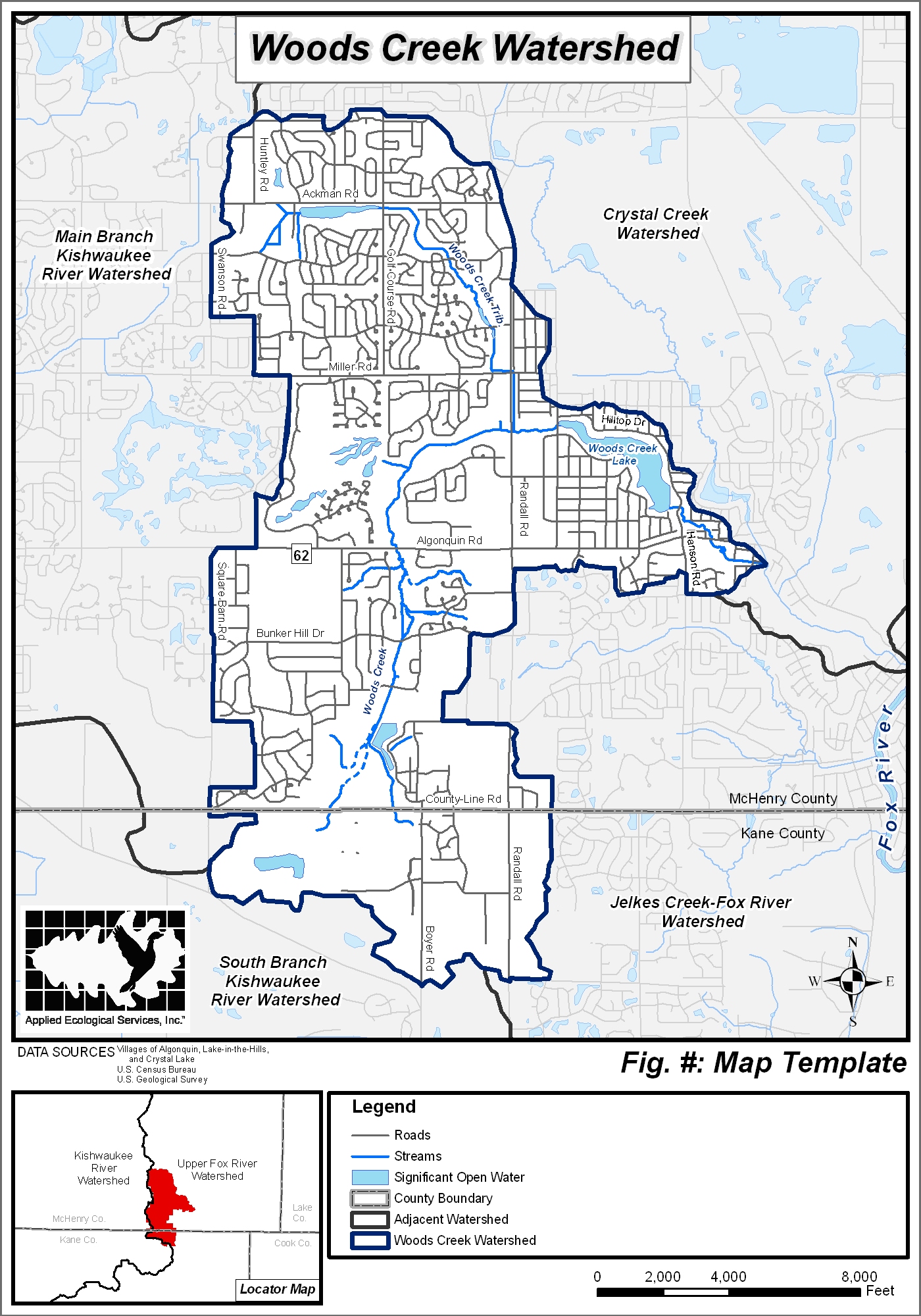 The ecological quality of the Woods Creek Watershed was long thought to be in good conditions. However, intense urban sprawl in southeast McHenry County within the past 15 years is beginning to degrade the water quality within the watershed. In 2004, Woods Creek Lake (a medium-size lake in the watershed) appeared on the IEPA 303d List. It also appeared on the 2006 and 2008 lists. In addition, Crystal Cree appeared on the 2004, 2006 and 2008 303d List. Degraded water quality originating from Woods Creek is thought to have a negative impact on Crystal Creek and the Fox River just downstream which also appeared on the 2004, 2006, and 2008 303d list. Impacts to designated uses are primarily the result of phosphorus, total dissolved solids, chloride, fecal coliform and mercury originating from municipal point sources and urban runoff/stormwater sewers.
The Villages of Algonquin, Lake in the Hills, City of Crystal Lake and Crystal Lake Park District are showing concern for the health of the Woods Creek Watershed and ultimately Crystal Creek and the Fox River since the lakes and streams in the watershed began showing signs of significant degradation in the early 2000s. In fact, the Village of Algonquin created the "Woods Creek Watershed Protection Plan" in 2001 to help guide residential and commercial development in the Woods Creek Watershed. These municipalities and park district also recognize that watershed issues are so complex and inter-related that it is essential for stakeholders including individual landowners, organizations, and governments to work together and help them understand the watershed and initiate projects that improve water quality and enhance natural resources and open space. The development of this plan is considered Phase I of the larger goal to create a watershed plan for all the Crystal Creek Watershed.
The Woods Creek Watershed Committee's vision is to improve water quality through refined stormwater management, flood reduction, enriched natural area management, groundwater recharge protection, utilization of green infrastructure, and control of invasive species. The goal is to enhance ecosystem benefits within the Woods Creek watershed and ultimately the Fox River through education and stewardship.
Stakeholder Meetings for Woods Creek Watershed Committee
Watershed Partners
Applied Ecological Services, Inc