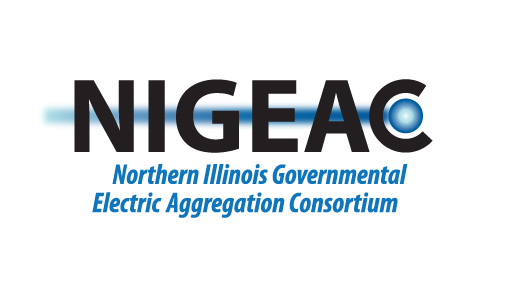 *** Electric Aggregation Program Suspended as of July 2017 ***
Constellation will begin supplying electricity in July 2015 (August billing) at a fixed rate of 6.89 cents/kWh for a 2-year term. Opt-Out letters should be delivered on or around May 4, 2015.
Constellation New Energy (effective July 2015 - July 2017)
Constellation New Energy has been chosen as the supplier for the Northern Illinois Governmental Electric Aggregation Consortium (NIGEAC) Electric Aggregation Program and we have obtained a low fixed-rate of 6.89 cents/kWh through your July 2017 bill. A 100% renewable energy option is also available at a fixed rate of 7.05 cents/kWh for the same term through Constellation's call center only (see FAQs for details).
Residents and small businesses in the Village of Algonquin who are eligible* for automatic inclusion in the program will receive opt-out letters. Please contact Constellation (844-257-8244) with any concerns or questions.
If you have questions or would like to inquire about enrolling, please have your ComEd bill handy and call Constellation at 844-257-8244. Additional information is available online (see below).
ComEd Price to Compare
The ComEd Price to Compare is currently 6.19 cents/kWh. In addition to the ComEd Price to Compare, a variable price adjustment (credit or charge) is applied but is capped at a maximum of 0.5 cents per kWh each month.
ComEd Minimum Stay Requirement
Please note regulations that prohibit customers from switching accounts frequently. If your account was with an alternative supplier, and you moved back to ComEd more than two months ago, you are under a 12-month stay or "bundled hold" and may not switch to a new supplier for that time. If you are automatically enrolled in the Village's aggregation program, and later switch back to ComEd, you must switch to a new, different supplier within two months or you will be subject to that 12-month bundled hold. If you have never chosen a supplier and choose to opt out of the aggregation program, you are not under a 12-month bundled hold and may switch to another supplier at any time.
*Eligible customers include those who have not chosen an ARES, not enrolled in the Real-Time Pricing Program, and commercial customers using <15,000 kWh/year.
Associated Documents
Additional Information
Constellation New Energy (After July 2015)